Decluttering workshops and speaker – Tanya Lewis.
Our mission is help you declutter, eco organise, so you can live the life you want, without costing the Earth. At our public and corporate decluttering workshops speaker Tanya Lewis will help you find time and space in your life without costing the Earth, we do this through our eco friendly organising system The 10R's™ .
Through her decluttering workshops speaker Tanya Lewis has helped many thousands of people save time, space, money and reduce their carbon footprint, simply by decluttering and eco organising.
Decluttering workshops
As you will learn at one of Tanya's decluttering workshops we believe life is too short to waste looking for STUFF, with demands on your time are many – work, kids, exercise, relationships, not to mention actually taking time out to rest and relax! Finding the time to get your home organised can be hard, so quite often the clutter and sheer amount of 'stuff' we own can end up controlling our lives.
Why waste money on buying things you do not need?
At her decluttering workshops speaker Tanya Lewis helps you discover the things you truly need and want, and make it easy for you to find them, rather than buying more STUFF.
Everything we bring into our space comes with a carbon footprint, it was grown, dug out of the ground, manufactured then transported around the world to arrive in your home or office. By being organised and declutter, you know what you need and have and are less likely to buy more.
Our passion is to create more TIME and SPACE in your life, ask us about our fun interactive workshops to help you, your community or your business get organised and reduce waste to landfill, so you can live the life you want.
Decluttering workshop and speaking
Tanya is the owner of Eco Organiser®, she is on a mission to prove that being organised won't to cost the earth.
Speaker, coach and professional workshop leader, Tanya Lewis helps you regain control over your time and space. She draws her passion for creating time and space from real life experiences.
Participants are encouraged to think outside the square and learn that being organised won't cost the earth. Armed with practical ideas, tips and by following The 10R's™ participants are rewarded with the gift of time and space.
Choose from one of these, or we can tailor a workshop or presentation to suit your needs:
Declutter for a Simpler Life without costing the Earth –The 10R's™
How would you feel if every room in your house was organised, making it easy to find things. "A place for everything and everything in its place"
Room by room learn how to Reduce, Reuse and Recycle for a simpler life.
Happy Homes=Happy Families Supporting families affected by clutter, without costing the Earth- the 10R's™
Why waste valuable time looking for things, robbing us of precious time with family, friends, children, adding layers of stress and costing us money.
An Eco Organiser® homes saves time, space, money and helps reduce our carbon footprint.
Declutter to Reduce Food Waste and create the kitchen you want-The 10R's™
How much money do you waste on food you buy and don't eat? Are the pantry shelves groaning with food, but you still cannot find anything to eat?
Learn how to declutter to save time, money and reduce food waste.
DRILL- Unearth the big issues for small business
Can your business survive under the weight of clutter?
The solution is DRILL, learn how to reduce clutter and grow your business without costing the earth .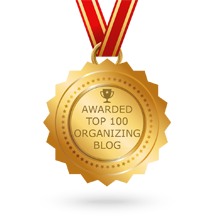 Spokesperson for Mobile Muster Mobile For A Meal 2017-2018
Greenpeace: True Food Guide Thank you from Greenpeace.
Ambassador Garage Sale Trail 2015 & 2016
National Ambassador Garage Sale Trail 2017
Check out the Eco Organiser® video tips to eco organise and reduce waste